With over 29 years under our belt, Gardner's Concrete has seen and done almost everything. We specialize in working with our customers to find the perfect look. Take a look below and find what's right for you.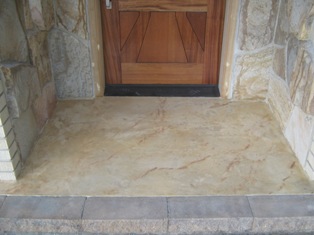 We work on a lot of porches and it's amazing to see the transformation of the entire home that takes place with the addition of a decorative concrete overlay. We can turn a new or an old eyesore into the talk of the neighborhood.

Porches can be less than desireable after construction with mortar stain and chips. We have several methods of coloring and making it look new again without much cost and completed in one day.

Resurfacing resists the effects of deicers commonly used, so the problems of spalling don't return, all for less money and disruption than replacement!

---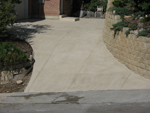 Driveways spall a lot in Utah - we can make them look new again! No one will even know they have been resurfaced, or that there was ever even a problem. With the addition of a colored border, your driveway can look sharp without distracting from your home.

Resurfacing resists the effects of deicers commonly used, so the problems of spalling don't return, all for less money and disruption than replacement!


---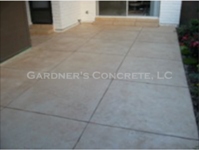 Patios can be more than just plain concrete--they can be a beautiful part of your home and yard. In fact, we find that many people spend more time in their backyard after they've had a decorative concrete patio installed.





---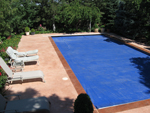 We can create an incredible pool deck with colors and textures to match the surroundings. Additinoally, we can change the color of your pool deck without resurfacing, coating the concrete to keep it up to 40ºF cooler in the summer time.
---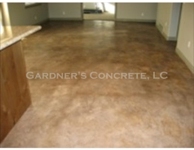 We can turn your indoor floors into a work of art, with more possibilities and elegance than alternative flooring solutions. Concrete is more versatile and works better in many situations, especially in laundry rooms where the floor slopes to a drain.

Commercial entities wanting to distinguish themselves are also turning to decorative concrete for their flooring. Our ability to customize the job for your needs separates us above the rest!
---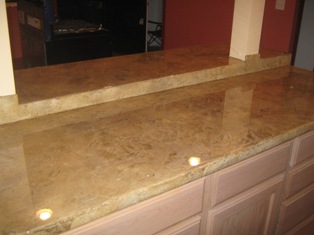 Our system (Granicrete) is applied over any surface, without the removal of your existing surface! We can make your counter tops look like granite, onyx, stone or marble, and with the the ability to use any color combination, it would be hard to tell the difference between our system and the real thing. The Granicrete Counter Top system is light weight, heat and scratch resistant, food safe and does not stain. You can wipe up most anything that you could spill and you never need to worry about it chipping or cracking.

If you prefer a solid concrete counter top, with our SureCrete product, we make them in any color, solid, veined, travertine, sandstone etc. Lightweight and thinner than traditionial systems wit ha quick turn-a-round. One day dry times - we also can make them in GFRC.

What kind of look do you want? We can create nearly any combination of pattern and color. Give yourself a high end look and value with a mid-range price.

---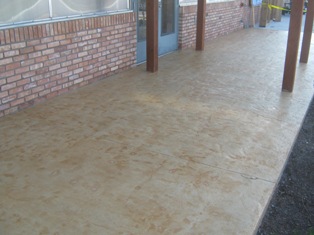 When most people hear "stained concrete", they think acid stain, but we offer more. We can achieve the same looks as an acid stain, but with much more control and color options. With our concrete stains, we can make most any old concrete look new again. Easily applied over existing stamped concrete or any existing concrete, our concrete stains are ideal for interior floors, pool decks, porches and driveways - not to mention it's very affordable. If you have blotchy, faded, discolored, stained, wrong color or failed acid stain on your concrete, we can fix it -
no problem!
---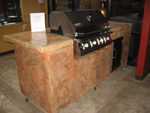 This isn't like anything you have seen before. Islands come in straight, L shape and wingback.
Units are lightweight, 250 lbs for a 3 ft. x 8 ft. unit, and constructed with no metal or wood to rust or rot. Because it is so lightweight, transportation to the site as a finished product is easy. Always custom made in design, texture and color, most anything is possible. Let your imagination run free and tell us what you want!
---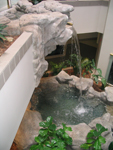 These amazing, one-of-a-kind lightweight concrete materials can be used to create waterfeatures that are a wonderful addition to any home or business. They are relaxing and energizing. They are increasingly popular in Utah along with many other possibilities of artificial rocks. 3D Lightweight Concrete is, by far, the most versatile product line for creating synthetic boulders.
---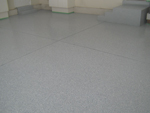 With our Epoxy Floors, we represent several manufacturers and can get you a product that is very specific to your needs. Perfect for garage floors, basement floors, kitchen floors, industrial and warehouse floors, shop floors, workroom and bathroom floors - all with or without flakes.
---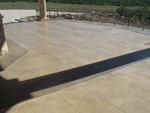 Our decking system is WATERPROOF and looks great. We can go over a new deck or in some cases redo the existing deck. Let's identify what the usual choices are and their drawbacks. Wood and Trex decks are not water tight, require maintenance and cost $$. Other solid decks are a rubber type product and look cheap. Most concrete overlay decks use a material made for concrete and end up cracking and peeling with all the movement in the deck. Decks are subject to extreme temperature ranges during the day and during season changes. Proper construction practices aren't always followed.
Our system is made for all these extreme conditions. We can produce the look of stone, tile as well as many other textures and colors. It does not crack, show wood lines, and is waterproof...guaranteed! We use a multistep system with products that have flexibility.
---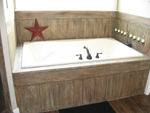 Our shower and tub surround systems can be installed in new construction or, in many cases, used to resurface your existing walls and shower floors, excluding fiberglass. Your imagination can fly free with colors and designs. Cleaning is a breeze because water and soap scum does not stick to the product.




---
Anti-Graffiti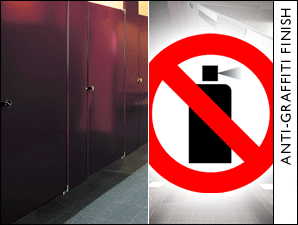 With our sealers and cleaners, graffiti is no longer a problem. Easily apply to stone, concrete, masonry, painted surfaces, vinyl, most surface. Just seal the surface with our clear sealer and when tagged, spray on our cleaner and wipe or powerwash off. Resealing is not necessary.



---
Sealers & Cleaners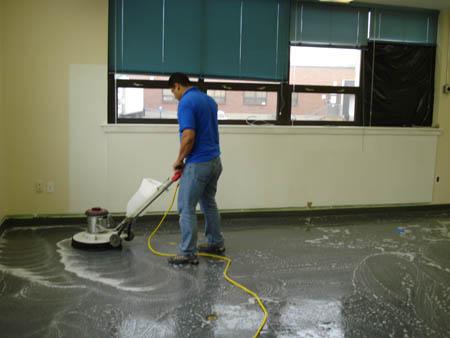 We have several different types of sealers including acrylic, urethane, solvent and water based, poly aspartic, polyureas and epoxies. Because we have multiple types by several manufacturers at our disposal, we have the product specific for your job, for both interior and exterior applications.

We have cleaners that will remove coatings, sealers, mastics, glue, oil, grease and most anything else that ends up stuck on a wall or floor.

---
---
Our vertical wall overlay system is a cementicious dry mix designed specifically for deep wall textures creating that realistic 3D appearance of various stone and brick patterns.
A few applications include: fireplace surrounds, interior and exterior walls, foundations, retaining walls and chimneys.